There are so many things to love about crescent rolls. The "pop" sound when you open the can. Pulling the pieces of dough apart and rolling them into their traditional crescent shape. The smell of them baking. Pulling a steaming roll apart and slathering butter on it. Not to mention that they're just delicious.
But crescent rolls can be used in many other places than the bread basket.
Of course,

Pillsbury

has many recipes on their site for crescent rolls, but here are a few others I've found that I really want to make.
Lets start with

breakfast

.
SteelMom

has a created a breakfast she calls the

Santa Fe Breakfast Ring

.
Prep time: 15 minutes
|Cook time: 20 minutes|Total time: 35 minutes
10 ounce(s) of Philadelphia cooking Creme Santa Fe flavor
2 - 8 ounce containers of refridgerated cresent rolls
7 ounce(s) of Package of frozen brown and serve sausages (thawed)
6 Large eggs (slightly beaten)
2 cup(s) of Frozen shredded hash browns with peppers and onions
1/2 cup(s) of Shredded cheddar pepper jack cheese blend
Preheat oven to 375 degrees. Line a pizza pan with parchment paper and spray with non stick cooking spray

Unroll crescent rolls and lay around pizza pan points out overlapping wide edges to form a sun. Pat inside wide edges together to hold filling

Spray a skillet with cooking spray or add 2 tablespoons cooling oil to pan. On medium heat cook hash browns for 2 to 5 minutes until thawed and lightly browned. Next add in eggs and cook until eggs are done. Stirring to prevent them from sticking. When eggs are set remove from heat.

Stir in Philadelphia cooking creme and stir. Spoon onto wide end of crescent rolls and cover in circle. Add sausage on top of eggs in a ring. Sprinkle with shredded cheese

Fold pointed ends of crescent rolls over filling and tuck under to seal.

Bake ring for 18 to 25 minutes until golden brown. Remove from oven and allow to cool for about 3 minutes

Slice into serving pieces. Feel free to top with sour cream if you like.
Bacon Time

has another variation on the breakfast ring.
Ingredients:
1 can of crescents 8-count
5 large eggs
1 cup of shredded Colby and monterey jack cheese
8 slices of fully cooked bacon
1.
Preheat oven to 375 F degrees. Scramble your eggs. Lay out the crescents as in the above recipe, part two.
3. Add about 1/3 of your cheese
4. Add your eggs and about 1/3 more of your cheese and fold crescents over.
5. Add the rest of your cheese to the top and bake for 17 minutes or until the crescents are done and golden brown
Southern Living

has a simple recipe for using crescent rolls at

lunch

with a

chicken salad roll.
1 (8-oz.) can refrigerated crescent rolls
1 cup your favorite chicken salad
2 tablespoons poppy seeds
Preparation
Unroll 1 (8-oz.) can refrigerated crescent rolls; separate each dough portion along center and diagonal perforations, forming 8 triangles. Spoon 2 Tbsp. of your favorite chicken salad on the wide end of each triangle. Starting at the wide end of each triangle, roll dough over chicken salad, pinching edges to seal. Place rolls, seam sides down, on a lightly greased baking sheet. Sprinkle tops of rolls evenly with 2 Tbsp. poppy seeds. (Seeds will stick to rolls without a binder; you don't need to brush with egg.) Bake at 375° for 10 to 12 minutes or until golden brown.
Now, how about that afternoon

snack

?
For The Love of Cooking has a great how to photo and a simple recipe for

Chocolate and Peanut Butter Filled Crescents

.
But the recipe I want to make is the one from

Hershey's

.
1/4 cup HERSHEY'S Milk Chocolate Chips
1/4 cup REESE'S Peanut Butter Chips
2 tablespoons finely chopped nuts
1 can (8 oz.) refrigerated quick crescent
dinner rolls
Powdered sugar or MILK CHOCOLATE DRIZZLE (recipe follows)
Heat oven to 375°F. Stir together milk chocolate chips, peanut butter
chips and nuts in small bowl. Unroll dough to form 8 triangles. Lightly
sprinkle 1 heaping tablespoon chip mixture on top of each; gently press into dough. Starting at shortest side of triangle, roll dough to opposite point. Place rolls, point side down, on ungreased cookie sheet; curve into crescent shape. Bake 10 to 12 minutes or until golden brown. Sprinkle with powdered sugar or MILK CHOCOLATE DRIZZLE. Serve warm. 8 crescents.
MILK CHOCOLATE DRIZZLE: Place 1/2 cup HERSHEY'S Milk Chocolate

Chips and 1 teaspoon shortening (do not use butter, margarine, spread or oil) in small microwave-safe bowl. Microwave at MEDIUM (50%) 30 seconds; stir. If necessary, microwave at MEDIUM an additional 10 seconds at a time, stirring after each heating, until chips are melted and smooth when stirred. Use immediately. About 1/4 cup drizzle.
Mexican Chicken Pot Pies in Crescent Bowls
INGREDIENTS
1 can (8 oz) Pillsbury® Crescent Recipe Creations® refrigerated seamless dough sheet
2 tablespoons butter or margarine
1/4 cup chopped onion
1 tablespoon all-purpose flour
1/4 teaspoon salt
1/8 teaspoon pepper
1 cup chicken broth
1 package (6 oz) refrigerated cooked Southwest-flavor chicken breast strips, coarsely chopped
1 can (15 oz) black beans, drained, rinsed
3 tablespoons Old El Paso® canned chopped green chiles, drained
1 cup Green Giant® Valley Fresh Steamers™ Niblets® frozen corn
1/2 cup shredded Cheddar-Jack with jalapeño peppers cheese blend (2 oz)
1/2 cup Old El Paso® Thick 'n Chunky salsa (any variety)

DIRECTIONS
1. Heat oven to 375°F. Place four 6-oz custard cups upside down on cookie sheet with sides. Spray cups with cooking spray.
2. Unroll dough on work surface; press into 12x8-inch rectangle. Cut into 4 squares. Place 1 dough square over each custard cup, stretching to fit bowl.
3. Bake 12 to 15 minutes or until golden brown. Cool 5 minutes. Remove from custard cups. Place on cooling rack.
4. Meanwhile, in 2-quart saucepan, melt butter over medium heat. Add onion; cook about 2 minutes, stirring occasionally, until tender. Add flour, salt and pepper; stir until well blended. Gradually stir in broth; cook and stir until bubbly and thickened. Stir in chicken, black beans, green chiles and corn. Simmer about 5 minutes or until hot.
5. Spoon about 3/4 cup chicken mixture into each crescent bowl. Top with cheese and salsa.
You can vary the heat in this Mexican-inspired dish when you substitute chopped chipotle chiles for the green chiles

.
I think this looks delicious.
For

dessert

, I'm heading over to Cookies and Cups for

Stuffed Crescent Reese's Rolls.
Her blog is full of decadent looking recipes and this is no exception. I think I gained a few pounds just looking at the photos.
Look how easy this recipe is:
powdered sugar for sifting
Cut your Reese's Cups in half and starting from the top and loosely roll your Crescents.
Remember to pinch the sides closed so the chocolate doesn't melt out.
Bake on a parchment lined baking sheet according to package directions. (approx. 8 minutes)
When they are done sprinkle with powdered sugar.
They are best served warm.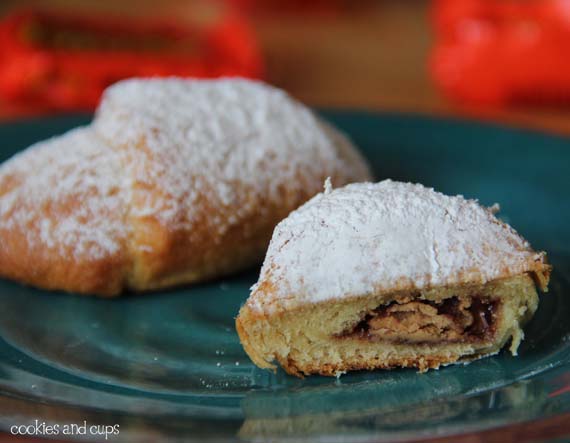 Finally, if you are an adventurous soul, you can make your own

Crescent Rolls

.
Make your way to Handle the Heat. She has a nice, detailed recipe which includes instructions and photos.
My own crescent rolls. That's something I really want to make.